Amiga 4000T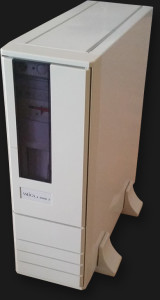 So the main reason for being away for a while was partly heavy load at work but I also had a chance to purchase a very good condition Amiga 4000T (Escom version).
I've been looking for such rarity for a while now and when the opportunity came I took it right away. The front bezel was in more or less free from any yellowing and scratches but the feet's had some yellowing, but nothing that could be fixed with some Retr0br1ght treatment.
The metal housing has an overall strange solution to open.You literally remove a whole side plus 70% of both the top and bottom. Never seen that before and I took a few minutes before I figured it out. It also had a lot of scratches and some paint was gone due to age.
Luckily I have a company that does the kind of painting that is done on casings called powder coating with structure. I stripped the housing completely and then gave it to them for removal of old paint and then apply new paint.
They were able to find the original color code and were also able to replicate the structure that the original color has. All that for a low cost as €90!!
Amiga 4000T Configuration upon arrival
Commondore 3630 without FPU
16MB internal Fast RAM
Indivision KickFlash OS4
Elbox 3000/4000T Mediator PCI 4000
PixelView
Creative Labs (CT4810)
3DFX Voodoo 5 – 5500
RTL 8139D 10/100Mbps NIC
Many might think I'm crazy, but I personally do not like the solution to add PCI-slots to your Amiga. The Amiga I want to use is only with standard Amiga parts, without adding any other types of slots.
When the Amiga 4000T are done it will have inherited the following parts from my Amiga 4000D (that will get new parts later).
Amiga 4000T New Configuration
CSPPC 060 72MHz / 603e 200Mhz + 128MB Fast RAM
CVPPC 8MB
X-Surf 100 + USB Module
BigRamPlus 256MB
KickFlash OS4
Ratte Auto Monitor Switch + Control Switch
What can I say, dreams can come true 🙂